1973 Mazda RX-2 - Bridgeport 13b Rotary engine - With EXTRA Parts & LOW miles
11-30-2014, 10:14 PM
Junior Member
Join Date: Nov 2014
Location: Olathe KS
Posts: 2
1973 Mazda RX-2 - Bridgeport 13b Rotary engine - With EXTRA Parts & LOW miles
---
Sorry if this is the wrong place to post this (let me know where to move it to if so.)
1973 Mazda RX-2 w/ Bridgeported 13B Rotary Engine.

eBay listing:
Mazda Other Coupe 2 Door | eBay
Short Description:
It is with a heavy heart that I have to sell this car. My only hope is that it goes to someone that will take care of it and build it back up to a beautiful running state. When running, it was pushing 300hp
***Seller Notes: "1) Engine turns over but does not start. 2) Some surface scratches on the paint here and there (good shape for a '73 classic). 3) Driver seat has rips, as does the center arm-rest. 4) Some rust starting at the bottom of the rear window seal. 5) Missing the radio. 6) Performance street tires with lots of tread."***
The car is non-running currently
- I have been told by multiple gear-heads that it is most likely just the apex seals and and other minor rebuild things that need done. I currently don't have the ability to maintain it.
The Car's Story:
It's been owned by my grandpa, my dad, and myself (and back and forth between us a number of times), and now it looks like I need to part ways with it. This Mazda has a few bumps and bruises but is in nice shape for being mostly original. It's had a roll-bar installed as well as other autocross features for racing, had a 13b bridge-ported engine installed and tuned by THE Louie Rivera at the Mazda-Honda Shop, it still has the original burnt orange paint and pin-striping, and when running can push some serious torque. All in all, I would love to keep it, but cannot afford to. So I would like to sell it to someone who I KNOW will take care of it, restore it, drive it, enjoy it.
Details and Extra's:
Mazda RX-2 1973 , original burnt orange paint (AO) with the cream-white pin-striping
• Bridge ported 13B said to have 300HP (ported by Louie from "The Mazda Honda Shop" (well known rotary shop);
• Engine has probably less than 3,000 miles on it since the port);
• Engine moved 3" rear-ward for better weight distribution;
• Weber 48-IDA downdraft carb (misc. injectors and carb parts in a box;
• Sway-bars front and rear;
• Battery moved to trunk for better weight distribution;
• Roll-bar added behind front seats for when this car did autocross;
• Limited slip rear-end (don't know the ratio's);
• Coney 4-way adjustable Racing Shocks
• Widened rims (from 5" to 7"?) with SUMITOMO P215/50R13 performance tires that don't have very many miles on them (but they have been sitting a few years);
•
Misc. parts from another RX-2: windshield; rear seat; front seats; interior door panels; two rear side windows with mechanisms;
• 4 slicks (bad rubber) mounted on rims widened to 9";
• 4 chrome wheel-rim beauty rings;
• A couple of original Holly carbs;
• Extra Mazda 13B oil filters 5+;
• Custom tow bar (pictured)
• Fiberglass front air dam
• Front and Rear Chrome Fender (front is not installed in the pictures due to the tow-bar, but it's in the picture with the extra parts)
• Extra front chrome fender (not pictured)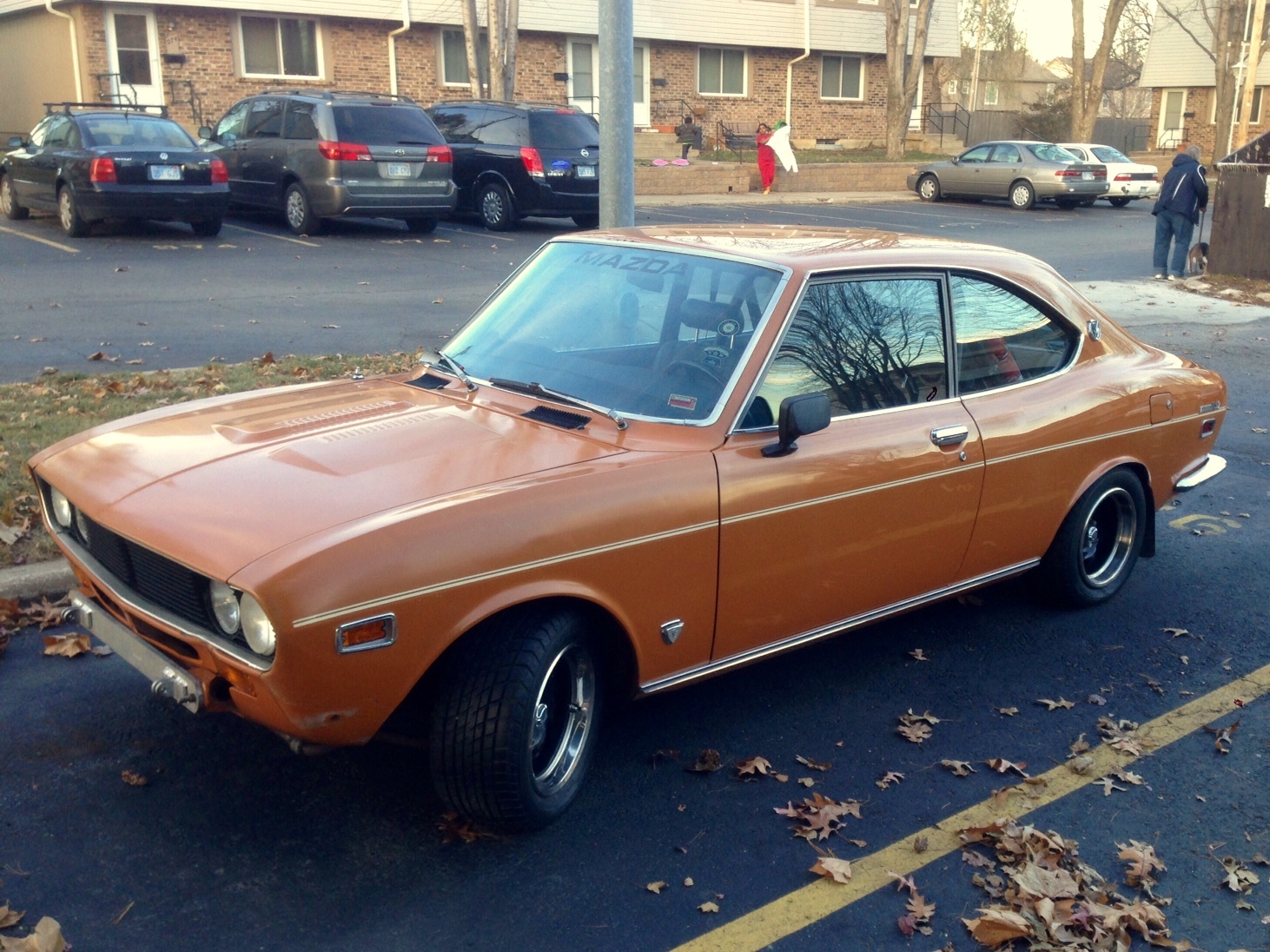 More pictures in the ebay listing:
Mazda Other Coupe 2 Door | eBay
Thread
Thread Starter
Forum
Replies
Last Post
RX-7 & RX-8 Parts For Sale & Wanted
RX-7 & RX-8 Parts For Sale & Wanted
Currently Active Users Viewing This Thread: 1
(0 members and 1 guests)