Advanced Suspention Setup
02-16-2004, 02:47 PM
Member
Join Date: Sep 2003
Location: Tucson, AZ
Posts: 81
---
-Tire pressire is 40psi on 205/50/16 Yoko ES100's ( I like matched tires instead of stickeys in the front and crap in the back )

-Strut tower bars front and rear.

-Maybe 270hp with a 13bt stock port.



Hey Ranzo are you running the Azenis Sports or the 115's?
05-25-2004, 02:53 AM
Member
Join Date: Sep 2003
Posts: 50
---
Drifted Infinion yesterday, The car handled SUPER in every turn! I can not belive how well it handled 4th gear entry drifts at turn one. Only turn I could not quite get right was turn 6. Just not enough torque from NA motor.



Todd



NCDA.net
08-10-2005, 10:00 PM
Junior Member
Join Date: Aug 2005
Posts: 3
---
Hey all



As you can probably see I am new to the fourm but as well as that I am new to the rotor scene as well.



My question to you all is I have a series 4 RX-7 and i want to start drifting and i was wondering what is the best drift setup would be



any help will be appericated..



Cheers forbes
10-13-2005, 04:58 PM
Junior Member
Join Date: Jun 2005
Posts: 13
---
to share my setups, which seem to work pretty well:
Tein drift spec coils 8kg front 6kg rear
dampening at 8/16 front and rear... going to try 8 in front 11 in rear this weekend
ride height (measured from jacking points) LF: 139mm RF: 135mm LR: 147mm RR: 143mm
Camber: front: 3deg rear: 1.5deg
tire pressure: 30psi on all 4
1/4" toe out in front 1/8" toe in on rear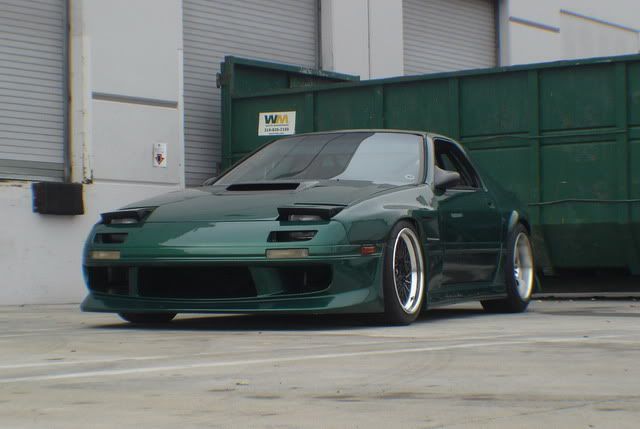 02-14-2006, 12:05 AM
Member
Join Date: Feb 2006
Posts: 84
---
mine.
TIEN HE's 8kg/7kg...lowest and hardest/stiffest settings...seriously...
camber: -2 front, -3 rear
bashed fender wells,
beginning's of a cage,
Polyurethane bushings
Super Now! Tie Rod Ends and Steering rack spacers messing up my toe but teh awesome when in full lock,
toe out 2 degrees front, 0 rear,
Solid front diff mount,
Tomei Traxx Advance 2-Way,
Red Line 75W-90,
17X9's all around
215/40/17's up front (preferably ES100's or T1-S's),
215/40/17s-235/45/17's rear depending on what I can get hooked up with,
I really need to read that suspension settings thing posted up top.
cheers,
Earl