Looking for a new steering wheel and got questions
08-08-2010, 03:37 AM
Junior Member
Join Date: Aug 2010
Location: Mytilene, Greece
Posts: 4
---
Hi all. My 1st post
. Got a red S5 (June 91 model) since 2004 and for the last few weeks I have been looking around for a steering wheel. I got the factory wheel on so far and I want that to change asap. Beforehand I ought to tell you that my knowledge concerning car mechanics is extremeley weak. So, as far as i know, my car has no airbags and thus it should be real easy to get a new steering wheel and fit it. Is this correct? 2 more questions: will any steering wheel I like fit? Will I need a hub?
I am looking at a few MOMO's atm at ebay. If u want to suggest a nice and cheap one, please do so. I don't want to pay more than 200 euro for it though.
Thanks in advance,
Jim
08-08-2010, 03:53 AM
Junior Member
Join Date: Aug 2010
Location: Mytilene, Greece
Posts: 4
---
(No EDIT button available)
For instance check this steering wheel
MOMO QUARK Red Steering Wheel
which I believe looks awesome with an excellent price tag too
08-08-2010, 11:50 AM
Junior Member
Join Date: Mar 2010
Location: Vancouver, Canada
Posts: 2
---
You will require a hub to fit an aftermarket steering wheel to your car.
http://www.racinglab.com/mamostwhhuba.html
Momo sells the on you need. its around $100 but I'm sure you could fine one on EBay for less than that.
Removing the stock wheel is pretty easy. You need to pull off the center of the stock wheel (the part that you push down to cause it to beep the horn).Under that you will find a wire for the horn (disconnect this).Then you will need a socket and ratchet to remove the large center nut.
The you simply full the wheel straight off the car. I always recommend you do this on flat ground with the car perfectly straight (aids in lining up the aftermarket wheel).
Now you take the hub that you purchased and bolt it back to where the original steering wheel was. Making sure to keep is centered. Then you bolt the new steering wheel to the hub, connect the horn wire lead to the spade terminal on the steering wheel. Now go drive it ti insure that it is centered.
The parts you need.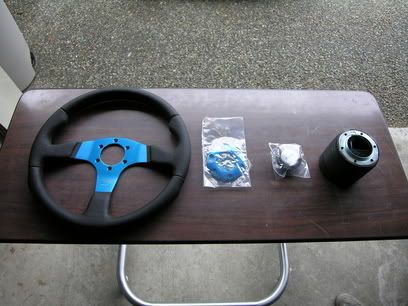 An install video (on an FB but its about the same)
http://www.youtube.com/watch?v=Y9ylbTdtvcw
Tim
Thread
Thread Starter
Forum
Replies
Last Post
RX-7 & RX-8 Parts For Sale & Wanted
RX-7 & RX-8 Parts For Sale & Wanted
Currently Active Users Viewing This Thread: 1
(0 members and 1 guests)